There are many different lamps out there on the market and you can choose one of them as your final choice and add the great beauty to your home. In this case, the best designed lamp will require the buyers to spend more money than the regular lamps do. If you have the tight budget, the following guideline is the best reference for you to know more about unique lighting idea. You should not always buy the lamp since making this one by yourself is something possible and you can play with your creativity to make the lamps from something which is never been imagined by many people before.
The unique concept is not about something rare, but the capability to make use of the products available in our surroundings to create something new and attractive. The most unique idea is the most creative one and probably the unpredictable and unimaginable one for many people. Buying the best lamp on the stores is the ordinary thing, thus you can bring extraordinary feeling by making the lamp by yourself. It is time to explore your idea and show the world about your new lamp.
The lamp looks like a little bulb man struggling to unplugged his big "tail" from the power outlet. Looks very cute in some perspectives but pretty dangerous since there is not protection to the lamp. Well, I don't mean that the lamp will be in dangerous situation, but it's YOU who will get burn by the hot lamp.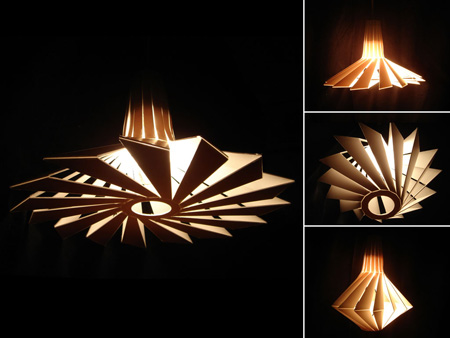 Penta pendant lamp can change the look of your living room totally. "Penta" is designed by Italian designer, Luca Casarotto, during Foscarini Lab workshop by Foscarini. Penta can provide light to every requirement. Once opened, it offers an elegant chiaroscuro light texture with different shades and rotary motion. Its shades can change 15 sides in a pure active optic chiasm. This Pendant Lamp is a plain light source that can light up anything you want when closed. It is made up of solely recycled polyethylene flat components. Have a romantic evening with penta pendant lamp.
Alex Garnett has produce unique lamps, a lamp shade created from a giant sized skull. this lamp can be hanged around your house. with the design of this unique lamp is also easy to install. and of course the lamps design was created not to scare off visitors, but these lights have been created for a special impression on a home lighting.
Lights from Ukraine designer Igor Pinigin very unique with a funny and innovative. Maybe you need to know if the lights Igor design is capable of moving in any way you want. This lamp can be tilted, can stand upright, can be a little sleep without returning to its original position. If you see it, this lamp is very cute. Modern shaped lamp with bright light. You can choose other colors as options. Igor uses heavy glass sphere at the bottom to stabilize at any angle without affecting the light so that light is able to change any position you like.
Francois Legault, try to combine dishes into the lamp design is very beautiful. Utilizing cutlery, glasses, small plates, and other recycled materials with Legault modified to have a unique lighting though only kitchen equipment.
Vintage lamps are very popular and are widely used in modern interior design. They can offer something a little different from the mass produced items available in stores. They are also ideal if you would like something unique but can't afford modern designer prices. Vintage lamps can be very beautiful and also have the benefit of being a lesser price than the higher end antique lamps.